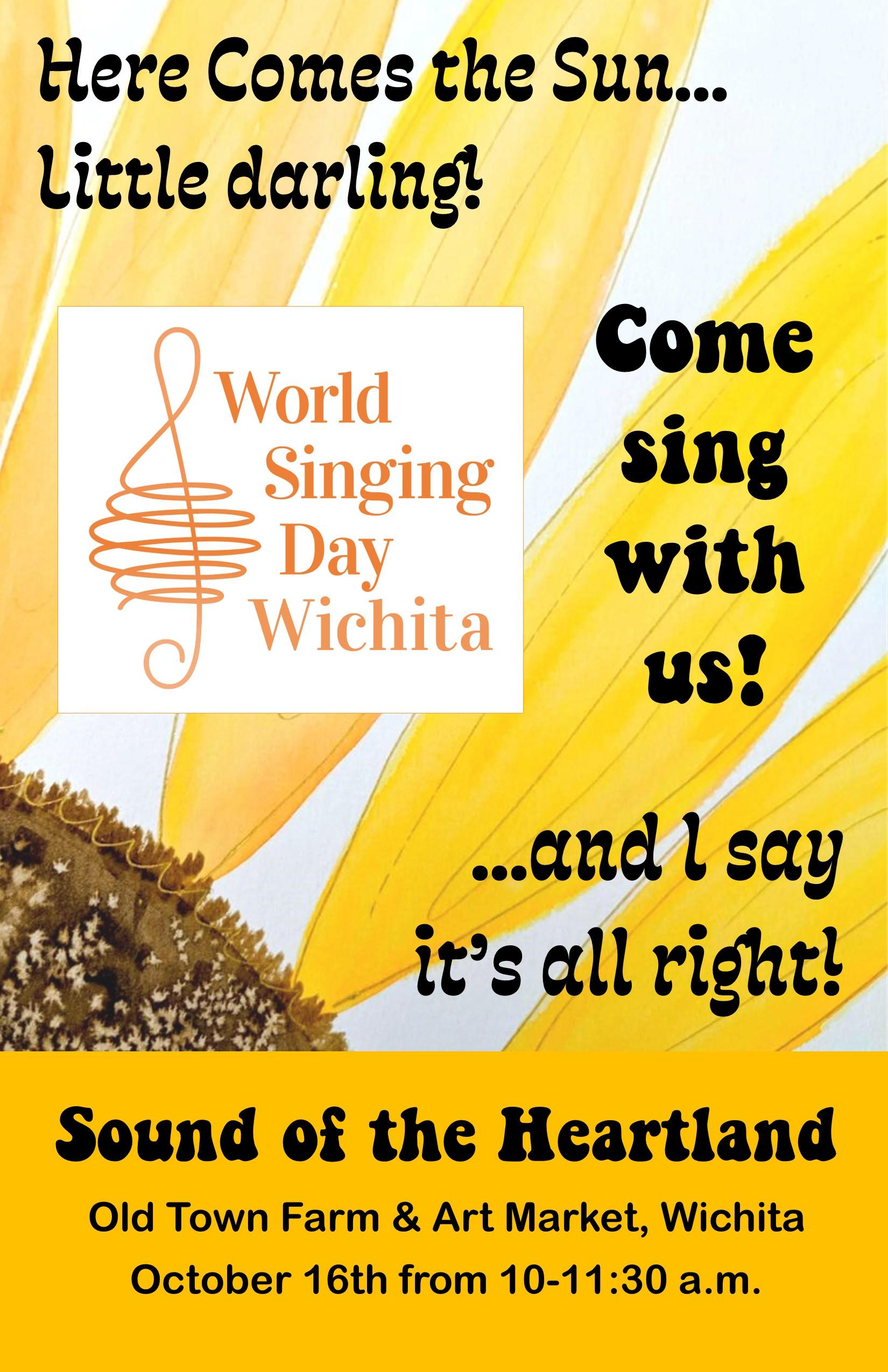 Sound of the Heartland Ensemble is a proud host of World Singing Day on October 16, 2021. In fact, we are the only official hosts in Kansas! We have a full day of singing to offer Wichita and Burns, KS!
Join us on Oct. 16 from 10-11:30 a.m. as we perform some and lead some sing-a-longs to your favorite tunes at the Old Town Farm and Art Market in Wichita, Kansas. And while you're there, take advantage of the fun shopping experience the market offers.  835 E. 1st St. Wichita, KS
From 1-2 p.m. we will be singing around Old Town at Lucinda's Gift Shop, 329 N. Mead St, Wichita, and at CityArts Art Gallery, 334 N. Mead St., Wichita.
At 3:30, the chorus will host a special community performance at Burns Cornerstone Bible Church in Burns, KS. Everyone is invited, and the church is hosting a dessert reception after the performance.
We hope to see you Saturday, Oct. 16!
Not near Wichita? Find events near you at https://worldsingingday.org/sing/#events
From the World Singing Day website:
World Singing Day is a global sing-along held annually on the 3rd Saturday in October. As a catalyst for positive human connection, this one day each year serves as an opportunity to celebrate our global family through the international language of music.
Founded in 2012 by Colorado (USA) musician Scott Johnson, World Singing Day brings people together in their communities all around the world through the simple act of singing together.
World Singing Day is not religious or political, and encourages people to put aside their differences and celebrate what we all share as human beings. World Singing Day is for everyone, regardless of your race, color, national origin, religion, sex, gender identity, sexual orientation, disability, singing ability, and age.
World Singing Day is a joyful community experience for musicians and non-musicians alike, from shower singers to celebrities, as they gather in their communities and sing together without the pressure of performing.
World Singing Day is not a competition, and no rehearsals are required. Anyone can join in the fun.