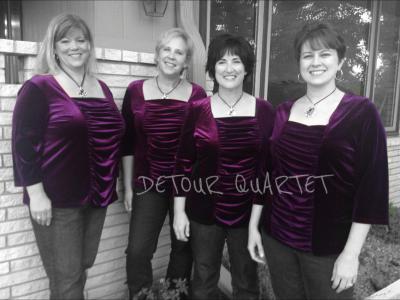 Newton, Hesston, Herington, McPherson, KS
Brought together by their love of singing close harmony, the members of Detour Quartet have been singing with the larger ensemble, Sound of the Heartland, for several years. Kristi Lovett (Tenor) lives in Herington. The roles of pastor's wife. mother and Chamber director are front and center. LaDonna Cheatham (Baritone) is from McPherson. She and her husband operate several businesses, and LaDonna directs Sound of the Heartland Ensemble. Rachel Newell (Lead) lives in Hesston. She works in Wichita as a fundraiser for a social service agency and has two grown children. Linda Schroeder (Bass) is a long-time Newton resident. She and her husband own a car restoration business. All have been involved in various singing groups over the years. All four members have a beautiful blend to their voices and enjoy bringing lush harmonies to audiences across the region. Sound of the Heartland is a member-chorus and Detour is a registered quartet with Sweet Adelines, Int'l.
The group sings for clubs, conventions, faith community events, National Anthem, stage shows, life celebrations and holiday events.
Contact our Members:
Rachel Newell, Lead (Newton) [email protected]
LaDonna Cheatham, Baritone (McPherson) [email protected]
Linda Schroeder, Bass (Newton) [email protected]
Kristi Lovett, Tenor (Hoisington) [email protected]
Repertoire includes:
Drift Away
For The Longest Time
If I Give My Heart to You
Midnight Serenade
Everything
Sentimental Reasons
Trickle, Trickle
Orange Colored Sky
As Long As I'm Singin
Love Me
Awards and Achievements:
2014 - SAI Region 25 Novice Quartet Award